Too many things in my mind!
Weather is pretty cold these few days and we dint do much. Hubby been having so much fun with his new WOW expansion game, and I, been busy knitting and crocheting. Ya, I want to make a runner for a small table in the living room. I picked out a nice pattern and have crochetted 2 motifs so far. Sometimes, I just enjoy crochetting very much. I need to make at least 36 motif for this project. This wont be a quick n rush project.
And finally, I completed the checked socks last night. John took off the old pair and put the new pair on immediately. Here the pictures of it. I really dont like my digi cam. It doesnt take nice picture. Well, will definitely want a new digi cam!!! Will put this in my wish list.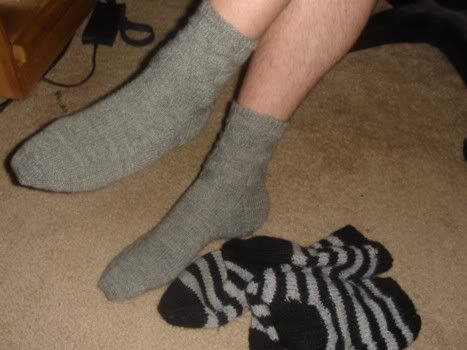 Nice and comfortable socks for John! Simple pattern by me! =p

Pattern : by me
Yarn : SISU Maskinvaskbar GREY 50g (1 1/2 ball)
Needle : 2.25mm dpn

Did I tell you that I finished ONE pomotamus sock? Ok, I am very in love with this nice pattern. I will knit another pair with solid colour for my sweet friend. I bet she will like it too. I am very sure I already addicted to sock knitting. I ordered some sock yarns online and lately I been looking at socks pattern book as well! I am so tempted to buy the Favorite Socks: 25 Timeless Designs from Interweave ! I really want to get a copy of this.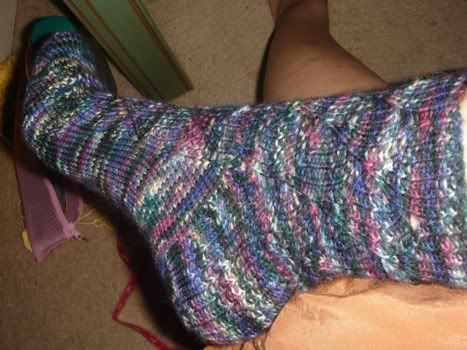 What will I be knitting next? I really should get back to my yellow cropped jacket. I stopped at the front left last week. I should continue it tonight. Really really too many things that I want to knit. Too many ideas in my mind. I want to start my pink cardigan, but I havent made up my mind what pattern t knit. Its so difficult!