Single Sock Syndrome~
Can you believe? I cast on for another sock again~ I just cant help, the sock yarn from my secret pal is way too delicious. I had some fun knitting the pomatomus!!! Another great design from Cookie in knitty.com. My hubby reminded me not to forget to knit another one sock, which is the grey checked sock, so he can wear it. Haha, I gave him a devilish smile right away~ He better understand that WILL take some times to complete! haha!
SSS -- its just a very common syndrome among knitters I guess... ITs the single sock syndrome dear~
I was actually busy having fun with some cotton yarn, knitting a cropped jacket, a pattern from Rebecca No.31. A very simple lace pattern. I use sugar n creme cotton yarn for this project. The cotton yarn is not as fine as the one I use to knit but I think it will make a nice sweater in this bigger yarn. I chose Yellow this time. Its a very light yellow. very very sweet yellow...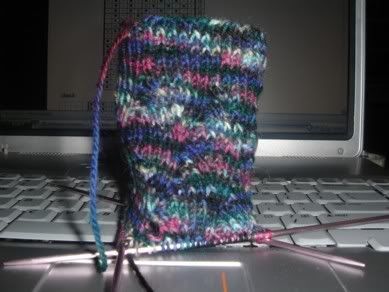 Can't really see the nice pattern huh? But the yarn color is sooooo nice~