Its less than 12USD!
This is the cheapest project so far I have made and it come out very nice. I really like it. I havent bought the buttons for it. I am talking about the cropped jacket, pattern from Mag.Rebecca 31. I knit it with Lily Cream 'n' Sugar - Yellow. 5 balls and they do not even cost more than 12USD. This is a bulky cotton sweater/jacket which is nice to wear at home. I like this yellow color! Might try out other color of this yarn in the future.
What a dirty mirrow! Its time to clean it up!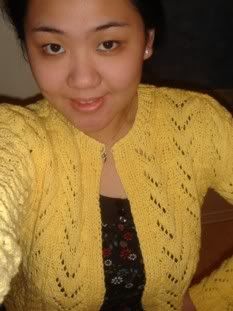 I like the neck band! simple and smooth! Ignore my sick n pale face! sorry!
I do a good progress in my
Ingrid
. Will start the right front tonight. I am watching American Idol now. I don't know why they are even there to sing... some are really sucks! I like Simon Cowell~ His accent! woo... =) WELL, back to my Ingrid. Here is the picture. I like the yarn, its soft. What do you think about the colour? I was confused what colour to pick when I was in the yarn shop, this yarn come in quite many colours. They are all nice though. I need to pick some right button for this sweater as well. What kind of button should I use? I din't really see any nice or appropriate buttons which go well with this sweater. Where else can I pick up some nice buttons? Hmmm... good questions!