Quick Peek of my Craftroom
I started moving things into my craftroom a week after the wood floor was done. I am very excited about this craftroom as I can finally store my yarn, books, CDs and other precious collections nicely.

There are few pieces of furniture that I need to add in the room, like a nice fabric armchair or recliner, a big rug and also some shelves for my yarn storage. To be honest, I want a nice white transparent lacey curtain eventhough I already have a window blind. I bet it takes time to add in more stuff to this room to transform it to THE CRAFTROOM that I really really love!

John and I definitely did some fantastic jobs on the wall painting, wood flooring and also the floor molding. I don't mean to take MOST of the credits, but I paid like 150% effort and patient in the painting. You know how careless men could be, I have to redo some touch up for the wall and also the molding therefore they turn out to be near to perfection! Of course, I truly want to thank my hubby for helping me in making this such pretty room.

Also, I have to thank Andy for taking home some FREE nice furnitures which I really can make use of them.



A corner of my Craftroom.


Those are all the knitting books and magazines that I have collected so far. Can you see the pretty big vase on the table? It is a Christmas present from Rosanne 2 years ago. I am going to put some nice flowers or YARN in it. The light lilac case? Yeah, it is a make up case that Gloria got me for my last year birthday. The case color entirely matches with the wall color. Now you probably are jealous about me having such wonderful sista in laws. Well, they are really nice to me. I love them!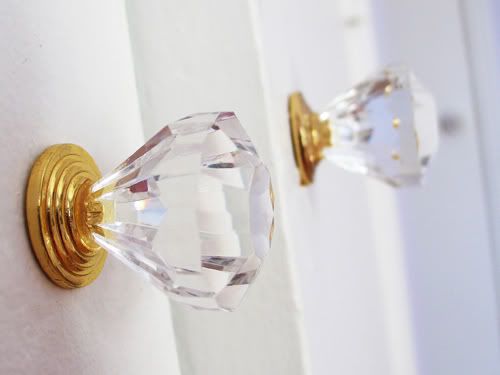 A pair of crystal like door knobs that I bought from HomeDepot for the wardrobe. I will slowly move all my clothes and shoes into this room as I think my bedroom wardrobe is not going to be big enough to store all my belongings.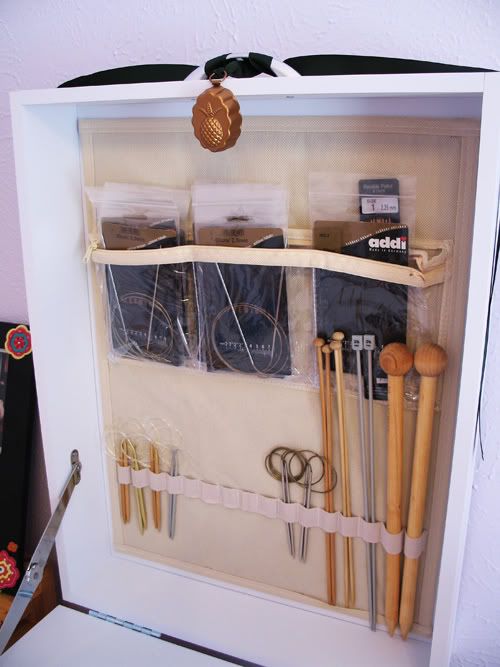 This is a beautiful and incredible craft desk that Diana got me for Christmas 2 years ago. Yup! Another sweet sister in law that I have. I think this desk is not made to store needles but painting brushes or pens. Well, it does do a good job in keeping my knitting needles in the right place. Do you see all the Addi I got there?!~ Woo... I love my Addi!
The copper pineapple thingy with ribbon was came with the Christmas gift that Gloria got me last year. I felt so reluctant to throw it away therefore I keep it and use it to decorate this craft desk. The pronunciation of pineapple in cantonese is WONG LAI = 黄梨, it means good fortune comes your way! I will keep my good fortune definitely!!!
Another corner of the craftroom, a photo frame with some lovely pictures of me and my family. I need to get more photo frames and also print out more pictures so I can have pictures all over my craftroom.