Lorna's Laces Shepherd Sock Yarn
I hear so much about Lorna's Laces yarn and I had my hands on them many many times too but I never get to the point to purchase any of them simply because of their high price. This year birthday, I spoiled myself with two skein gorgeous Lorna's Laces shepherd Sock yarn, in the color Amy's Vintage Office. Its colorway falls in grey, grey purple, dark blue, light turquoise.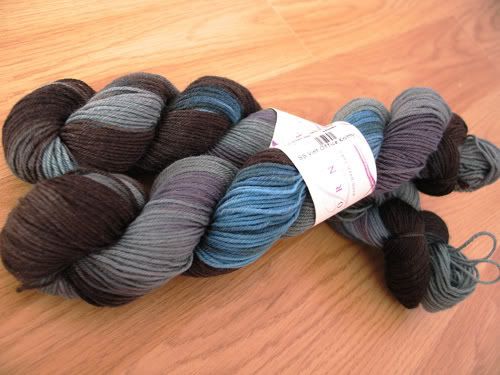 I have no idea yet which pattern that I am going to knit this beautiful yarn with but I will spend some times looking up nice sock patterns in Ravelry. Seems like there are always more yarn more nice patterns but too little time.
How do you keep your yarn, dearie knitters? I have a big plastic container which I pour all my yarn in for the past two years but lately, I have separated those wool yarn and cotton yarn. I keep all my cotton yarn in pretty hard board boxes. I bought two sweet photo storage boxes from Michaels with very low price during the sales. They are perfect to store more than 10 balls of cotton yarn. Also, I keep nice gift boxes which are still in good shape. I think they are good for yarn storage.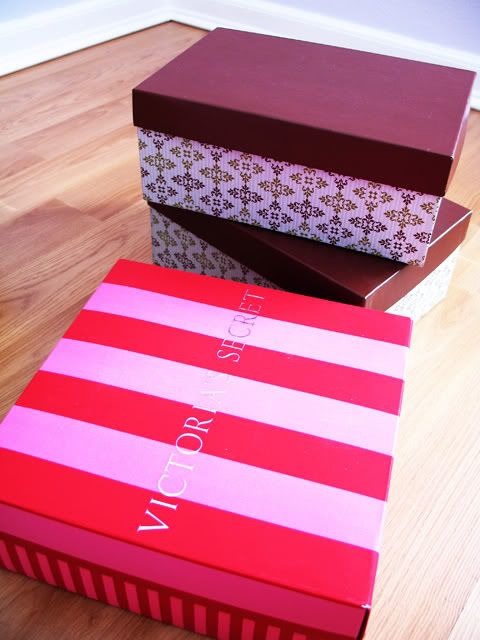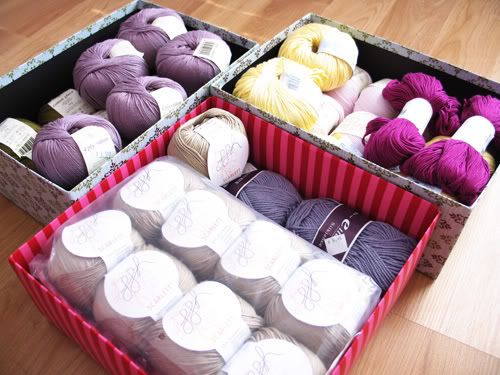 I don't think I have told you how evil those moths were. You cannot imagine what kind of damages they have done to my yarn! Gosh!!! Those little bastards love woool and I realize that they only chew up my wool yarn. I mean badly CHEWED and DESTROYED! There are more than 8 balls of nice wool yarn are ruined. They are eaten into pieces *sob sob*. It did not hurt that much for those cheap wool yarn but badly, there were few balls of Rowan are infested. My heart is bleeding...
Now, I have all my wool yarns nicely put in the big container. I put a natural moth repelling sachet in it to keep the moths away from my yarn stash. This natural remedy contains lavender, rosemary, mint, thyme, ginseng, cloves and lemon. I really don't wish to see any moth anymore! Devilry monster!