PICTURESSS of Food and FO!!!
Do you all like the new look of my blog? I purchased this blog banner from ETSY. Sandy is very nice to work with and I like all the vintage victorian things she makes. I will definitely look for her again when I get bored with this one!
I will upload some pictures of the food I cooked in this summer and also all the SCARVES I had knitted these 2 months. After knitting the hemlock ring, I had knitted 5 more scarves. 4 are simple seed stitch and 1x1 ribbing scarves and the last one, is a lace scarf that inspired by the Madli's shawl. Madli's shawl is one of the patterns in the book "Knitting Lace of Estonia". If you love lace knitting, you should get this book. I like the introduction of the town Haapsalu and also the knitting tradition there. Also, this book comes with some Estonian Lace stitch patterns, and that really interests me! I love this book!
I have actually bought many Rowan yarn 2 months back because my LYS is not going to carry any Rowan yarn and all the yarn was discounted 50% before I went back to Malaysia. After 3 months trip at Malaysia, some Rowan yarn were on 75% discount! I had gone crazy and visited the shop 2 days in the row. I bought some cotton and wool yarn. Also, I bought two Rowan pattern books because they were only 2usd each! Who can resist that???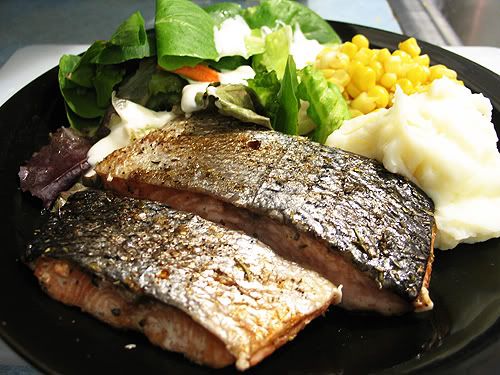 Grilled salmon with teriyaki sauce. We tried to cut down rice so we had salad, corn and little mash potato. It is easy to make and tastes delicious. I can always have fish! Love them!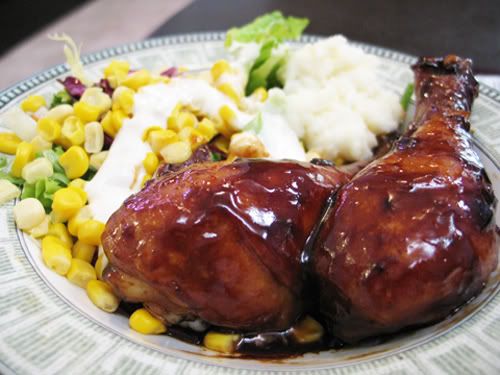 Grilled honey drumstick. This is a very simple dish as well. Just marinate the drumstick for 3 to 4 hours with soy sauce, dark soy sauce, oyster sauce, ketchup, garlic, shallot, honey! Basically you can add in whatever spices you want! Put in pre-heated oven 365F. I brush the sauce on every 6-8 minutes until the skins are little dried and golden brown. YUMMY!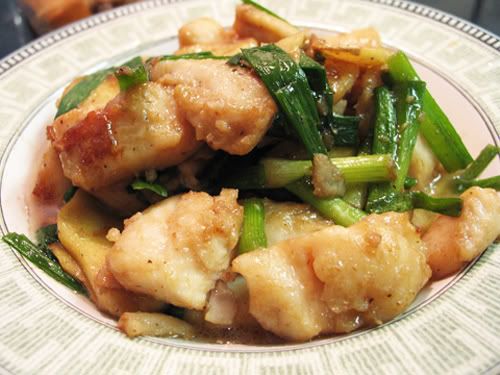 This is a dish that I cook regularly. EASY, QUICK and TASTY! Ingredient are swai fish (catfish) fillet, ginger and green onion stalk. Cut the fish slightly bigger than chicken nugget size, then marinate them with salt and pepper also 1 tablespoon of chinese rice wine. Prepare at least 8 slices of ginger. I love ginger and I always prepare more than that. Heat up the oil in the wok and dump in the ginger stir fry for a minute. You can see the ginger slice starts shrinking up bit and also the color change into darker tone. Now you can add in the fish. Stir fry gently so the fish won't break into pieces! After 2 minutes or so, add in oyster sauce, around 2-3 tablespoon. Stir fry GENTLY again. Now, you can add in the green onion stalk. Stir fry for another minute and then add in 3 tablespoon of water. Stir fry for another minute. Well, the dish is ready to be on the table now!!! Go get yourself a big bowl of rice to go with this!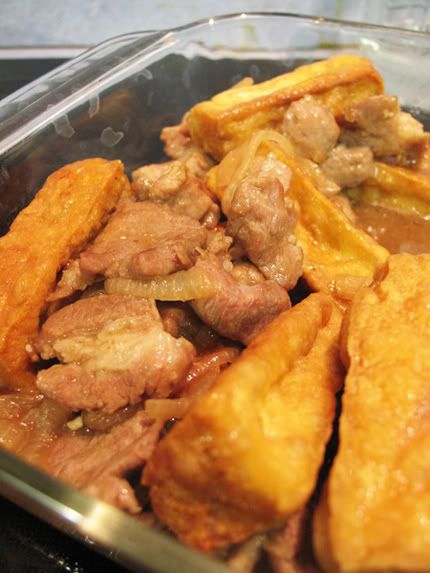 My first attemp to cook some tau fu and sadly I slightly over fried the tau fu. Well, now I know what is the right thing to do so next time there won't be any over friend tau fu in my house! John used to think tau fu is hard to eat. He told me that they taste like tasteless egg. Now, I manage to change this big Texan man into a half asian man. He loves tau fu and I really think I can get him to hook on some other aisan food! What about chicken feet and dried squid soup? haha!
Enough food for now, and I want to show you all my FOs! Oh ya, I did block the hemlock ring again and this time I pin out all the pointed edge and finally, I got to have nice edge hemlock ring blanket as what it supposed to be!!! It is such a pretty blanket. I can see myself knitting another one pretty soon!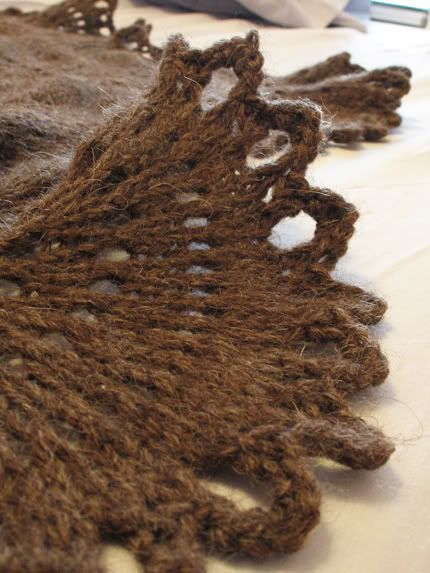 This is a stripe scarf that knitted with rowan wool yarn. Very very soft yarn and I like the color. I made another stripe scarf in the about same width but that is patons merino wool. I think thin scarf can be very fashionable and not that bulky.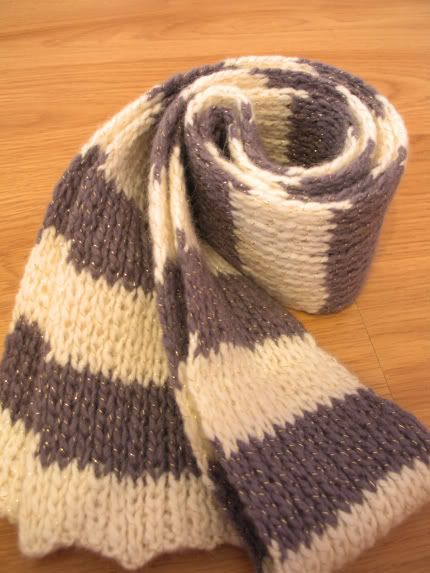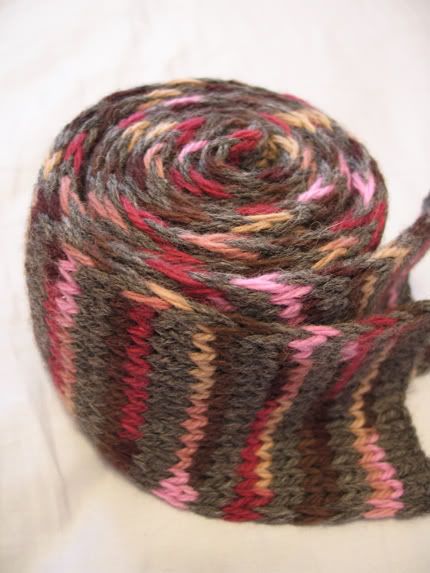 I bought 2 balls of Rowan cotton summer tweed in worsted weight with very good price. Well, nothing much you can do with 2 balls of yarn so I made a lace scarf out of it. You know how much I like purple! This color is just awesome! The lace pattern is picked out from a stitch pattern book I bought from Malaysia few years back.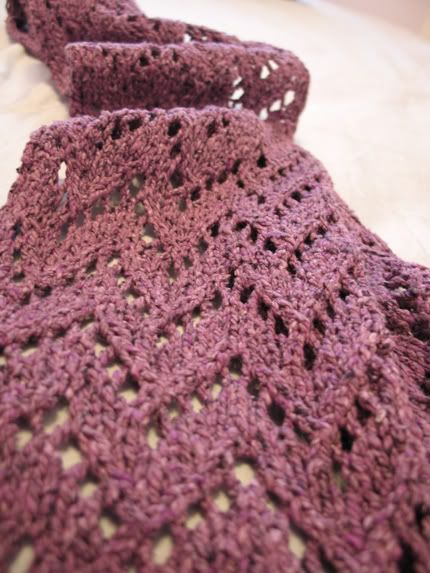 Hang on there girls, there are two more scarves to go! =) This one is real fun to work with. I name it Seedo simply because the whole scarf is made up with seed stitch. I got this yarn from Michaels when there was 60% sales. It is a chunky acrylic and wool yarn. It looks like a tweed yarn and there are simple variations going on in the yarn from white to drak grey. Also, there are many mini thin strains which come in different nice colors hiding in the yarn randomly. I love the little surprise this yarn gives me!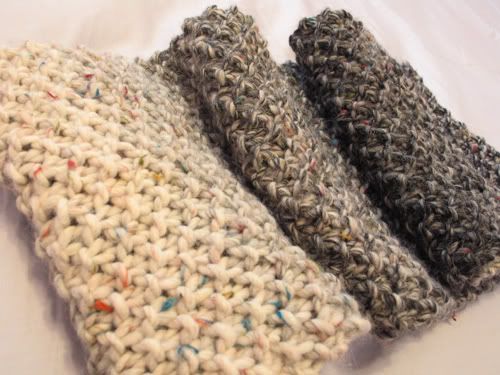 Last but not the least, here it comes the scarf I knitted that is inspired by the Madli's shawl. I use 1 and half ball of knitpicks palette in Ash color. I finished this scarf in a week and I had some fun making nupps here n there. It is always a pleasure to learn new knitting technique. The blocking session can be difficult. It requires many pins to stretch out the piece. That hurted my fingers. I think I will need to buy some appropriate lace blocking wires and pins from knitpicks.